Your 2017 Pest Forecast for Fall and Winter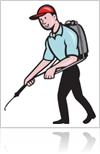 In the fall and winter, many families end up needing pest control in Dublin as insects and other pests make their way indoors to find food and shelter. Watch this video to see the National Pest Management Association's Fall/Winter pest forecast for 2017.
Factors like flooding in some areas and heat waves in others are projected to increase pest activity nationwide. This fall and winter, mice are anticipated to be a bigger problem than usual in the Pacific Northwest. As for the Southwest and West Coast, hot temperatures are expected to promote more ant and cockroach infestations. In the Midwest, mild weather has led to increased rodent populations that will look for shelter indoors as winter approaches. Finally, the Northeast can anticipate seeing stink bug, ladybug, and mice problems this year, and the Southeast can expect increased ant, termite, and mosquito activity.
Archives
2018
2017
2016
2015
2014