There are many ways to control pests that enter your office or commercial building, such as cleaning up after your employees and hiring a commercial pest control company. For the health and wellbeing of your employees, customers, and business, you must do everything you can to keep the pests from invading your office . Continue reading for a few tips to control a cockroach or ant infestation near Dublin, CA.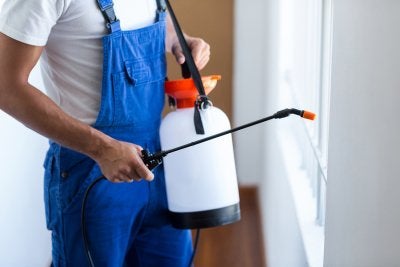 Tip #1: Clean Up Often
It is essential that your office be regularly cleaned. This action helps prevent and control pests, but it also keeps your employees and customers much happier and willing to do business. Ensure that your employees and customers throw away their trash by setting up convenient trashcans throughout the office. Hire a commercial cleaner that will come into your office once a week or more to vacuum, empty trashcans, and dust throughout the space. These various steps will deter pests from making a home in your office because they will not have access to food or trash.
Tip #2: Inspect Regularly
Along with ensuring your employees clean up after themselves, encourage them to keep an eye out for pests or nests. Check dark or rarely-used areas, and make this step a part of your regular opening or closing duties. Various pest may hide or form nests in these areas; by checking on them, cleaning them, and looking for pests, you can deter any insects or other pests that might think it is a good place to hide.
Tip 3: Hire Pest Control
Whether your office has had a problem with pests or not, it is a good idea to have a pest control expert on hand. These professionals will know the correct areas of your office to inspect, and they will know what a pest or cockroach infestation looks like. Ask your pest control experts if there are maintenance and pest management programs set up to control the pests that might try to invade your office.