Pests in your commercial space can deter customers or even force you to close your doors while you wait for the problem to be treated. If you are concerned about getting rid of cockroaches or other pests throughout your business, you will want to set up services with a company that offers commercial pest control in Dublin . Commercial pest control services will allow you to eliminate your pest problem safely, effectively, and with minimal or no impact to your daily business operations. Here is a look at some important questions to ask when you are setting up pest control services for your commercial space.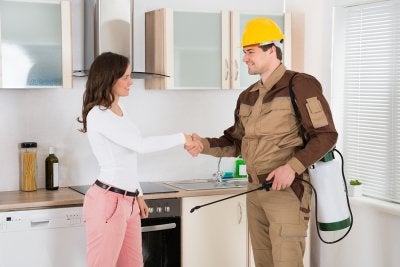 What Are Your Licenses and Certifications?
A commercial pest control provider should be fully licensed and certified by a range of city and state authorities. In order to receive certification, a pest control company must be able to demonstrate that their methods are safe, effective, and in compliance with all regulations. Before you book your pest control services, you will want to make sure that your provider has the necessary certifications.
How Do You Treat Pest Problems?
After verifying the certifications of a pest control provider, you will want to ask the company about their preferred pest control methods. Each type of pest requires specific services, so you will want to make sure that you work with a pest control professional that is willing to create a customized plan for your needs. You will also want to inquire about any chemicals or pesticides that may be used during the procedure.
Do You Offer a Guarantee?
A reputable pest control company will stand behind the effectiveness of their extermination and pest removal services. In preparation for your pest control appointment, it is a terrific idea to ask your company about any guarantees that they may be able to offer you. A company that guarantees the satisfaction of all of their customers will make sure that your pest problem has been completely eradicated.